Montrose Beach is on the Lake Michigan shoreline in the City of Chicago. All of the Chicago shoreline has been extensively modified since the City's incorporation in 1833.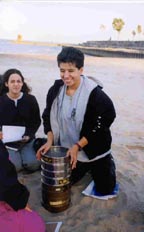 Yvette demonstrates using a set of screens to sort sand by grain size.
The longshore current carries sand southward along the shoreline, depositing above any obstacle and eroding below each one. The beaches in Chicago are cleaned and artificially nourished with new sand.